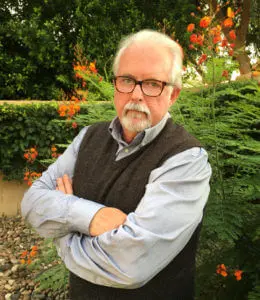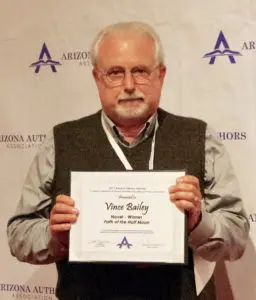 Vince Bailey is a writer who grew up in Central Arizona–specifically the East Valley of the Sun—starting in the late nineteen-fifties. His youthful escapades there in the copper state climes contribute significantly to the nostalgic flavor of his fiction writing. The author's adolescent haunts of yesteryear, tracing around the east side of Mesa, crop up frequently as facets of his fictional town of Jacobs Well, the anchor location for several of his books. Path of the Half Moon is Bailey's inaugural novel, the first of a paranormal/historical fiction trilogy.
But fiction is not his only writing outlet. His editorial efforts over the years have been published in several college and local newspapers, and for the past ten years, he has penned a column for a nationally distributed trade periodical. His "Estimator's Edge" column appears each month in the Construction Dimensions magazine.
Whether actually building with his hands or managing large commercial construction projects, making a living for an ever-expanding family has always been the first priority for Mr. Bailey, as "writing has never paid the bills." Consequently, his efforts in prose have always been relegated to working quiet nights and weekends or stealing an extended staycation now and then. Nevertheless, he has persevered in his craft, never abandoning his creative side, and for the past ten years, he has, as time allowed, faithfully recorded the outrageous and outlandish lives of the colorful characters living within the twisted order of his Fort Grant trilogy.
In 2016, Bailey joined the Arizona Authors Association, an admirable non-profit literary organization that provides an outlet for aspiring and established writers and poets statewide and nationwide. The following year, Path of the Half Moon was awarded first prize in the "unpublished novel" category in the group's annual writing competition, an award that earned a publishing contract with Ingram Elliott Publishing of Charlotte, North Carolina. The publisher has announced that Path of the Half Moon was released in late November 2018. The novel is now available online at Amazon, Barnes & Noble, and Indies. Book two of Bailey's trilogy, Courses of the Curses, was released in November 2020. Book three, Merging Paths, is scheduled for release in October of 2022.
Mr. Bailey currently resides in Phoenix, Arizona. He continues to create in the same sort of multiple genre style that has animated the Curtis Jefferson series.
From the January 2019 Book Launch at Changing Hands Bookstore in Phoenix to the Author Signing at Barnes and Noble in Peoria, Path of the Half Moon is taking the Valley of the Sun by storm!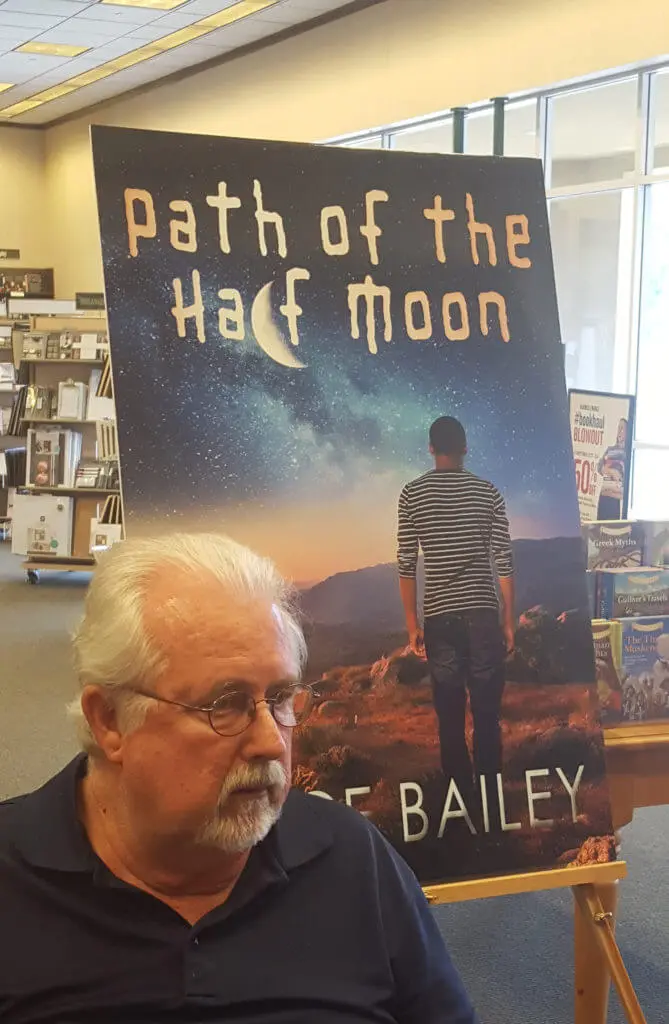 March 2, 2019, Barnes and Noble Peoria, AZ Author Signing