PATH of the HALF MOON by Vince Bailey
- Historical Fantasy, Supernatural Thrillers, Historical Thrillers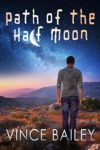 Title: Path of the Half Moon
Author(s): Vince Bailey
Genre(s): Historical Fantasy, Paranormal & Urban, Supernatural, Thriller/Suspense
Publisher: IngramElliott (2018)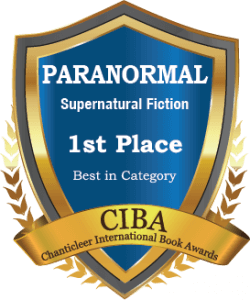 After being charged with burglary and attempted arson, fifteen-year-old African American boxer, Curtis Jefferson, has been sent to Fort Grant, a juvenile detention area in Arizona. All of the creepy stories and whispered warnings about the former US military outpost used by the US cavalry to eliminate the Apache a hundred years ago pale in comparison to the truth Curtis finds there. Curtis faces racism from both inmates and guards; to make matters worse, he is also very aware of the presence of something not of this world. He quickly discovers (though he doesn't want to admit it) that he is sentient to the fort's bloody past atrocities. As the site where Pinal and Aravaipa Apaches were slaughtered, the fort seems to be a crossroads where past and present meet. From mournful coyotes to hundreds of circling vultures, Curtis can't escape the strange visions and events inside and outside the fort. When he attracts the unwanted attention of Harvey Huish, an inmate with unusual abilities, Curtis creates a powerful enemy bent on revenge and humiliation.
A major theme of the novel is the power of language. It appears in numerous aspects of the plot, from the Apache cursing the white man's cunning use of his complicated and deceitful tongue to Randy's appreciation of Howard Cosell's elevated vocabulary. The frame-story technique within the novel establishes the concept of storytelling and the influence of words. Curtis's story is narrated by Vince, Curtis's new friend, who relays it to the reader at the same time Curtis is telling him. As a natural-born storyteller, Curtis is the storyteller in town, and Vince sees the story as a treasure, a jewel, that Curtis has seen fit to share with him and thus sees himself as somehow honored in receiving the tale. Vince values the story as more than just words; it makes him more significant for having heard it. Though the story is unbelievable at times, Curtis does what all great storytellers do–he creates a suspension of disbelief, granting the listener the right to believe, to feel that "[a]ll things are possible," an idea repeatedly given by various characters within the story. Through the telling, Curtis finds solace in giving his outlandish tale an authentic voice.
The theme of language also appears later in the character of Will Farnsworth, Harvey's tortured attorney. As the newest and most talented attorney in the firm that represents the Huish family, Will has been given the unachievable task of pacifying Harvey during his imprisonment at Fort Grant. Like many lawyers, Will uses words in "purposed profusion," trying unsuccessfully to befriend Harvey and later intimidating him with language. He attempts to use his words as weapons rather than tools for communication, a failure that leads to his enslavement to the abhorrent Harvey.
Another aspect of the novel is the blurring of time. The sinister fort itself is one part of this theme because it seems to exist in two time periods, its tragic past and its purposeful present. Curtis repeatedly sees images of days past that cross into his present-day 1960s. In fact, on his first day at the fort, he witnesses a hanging from the Indian uprising days. Later, Curtis crosses this boundary himself and crosses paths with a murdered Apache boy. The Headmaster, Roy Whitcomb, known by all as the Lieutenant, never leaves the fort but is stuck, it seems, within Fort Grant's time loop, effectively becoming "the man in the maze," the Pima tribal emblem. He is forever trapped within the maze's limitations and obstacles, unable to make the right choices and find his way into the next plane, the gift of a better existence. The very retelling of Curtis's story symbolizes this blurring of time as well. During the entire story, Vince's watch remains fixed when Curtis begins his tale, time seemingly suspended along with his disbelief.
Path of the Half Moon won First Place in the CIBA 2018 Paranormal Awards for supernatural novels.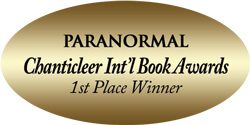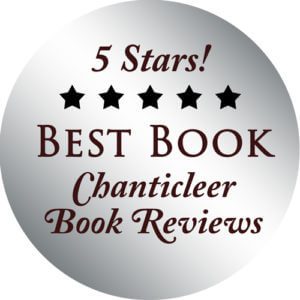 Read More Reviews on Amazon
Read More Reviews on Good Reads
Let me state upfront Path of the Half Moon is a historical fiction work with an emphasis on fiction, although it was not always so. The writing process taught me what was vital to the tale.
At the outset of telling this story, I was preoccupied with maintaining precise historical and geographical accuracy. In the age of seemingly infinite data stores and powerful search engines, little effort is required to discover, for instance, the high temperature on April 30, 1964, or the exact time for sunsets on any given date. During the course of writing, though, I began to feel my obsession with such minutiae was becoming restrictive and cramping my creativity. For example, the reader is given to understand that the phase of the moon is crucial in triggering the story's events. A search reveals that the very real massacre at Fort Grant occurred during a waxing half-moon. It followed the ghostly reprise of that atrocity that should be enacted under that same phase. But it occurred to me that the story would be better enhanced if the moon were waning—getting darker, as the plot was darkening. After several of these conflicts in which creativity ultimately triumphed over historical precision, I all but abandoned my fixation on accuracy with regard to historical and geographical details.
Consequently, though the Fort Grant massacre is historically factual, its actual location may be somewhat sketchy. Similarly, you can search long and hard, but you won't find a town anywhere in Arizona called Jacobs Well. Its description, however, suggests a suspicious similarity to Mesa, where I grew up. State highway designations and even county names in the book may or may not be fictitious, depending on their consistency with the story.
This abandonment of accuracy allowed me the freedom to fabricate a world of shadowy places, actors, and actions that imitate the real. Historical purists will certainly find a number of flaws in Path of the Half Moon, but casual readers will enjoy the creativity that imprecision allows.
~Vince Bailey
COURSES of the CURSED
by Vince Bailey
- Historical Fantasy, Supernatural Thrillers, Historical Thrillers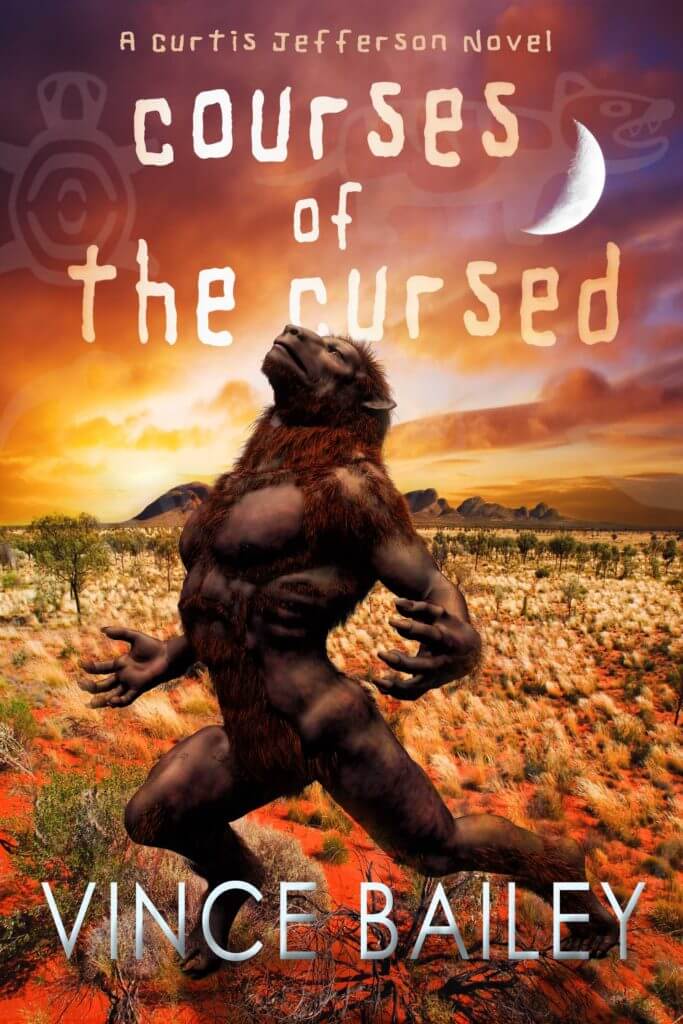 Title: Courses of the Cursed
Author(s): Vince Bailey
Genre(s): Historical Fantasy, Paranormal & Urban, Supernatural, Thriller/Suspense
Publisher: IngramElliott (2020)
African American youth Curtis Jefferson is still serving his one-year term at Fort Grant, where a horrific massacre still haunts the inhabitants. In the second book of the Curtis Jefferson series, our hero continues to be challenged by his nemesis, Harvey Huish, while a café owner struggles with a premonition that her nephew will be the victim of a treacherous plot. The parallel stories share a common theme: The curse of Fort Grant. Read More Reviews on Amazon
Read More Reviews on Good Reads
MERGING PATHS
by Vince Bailey
- Historical Fantasy, Supernatural Thrillers, Historical Thrillers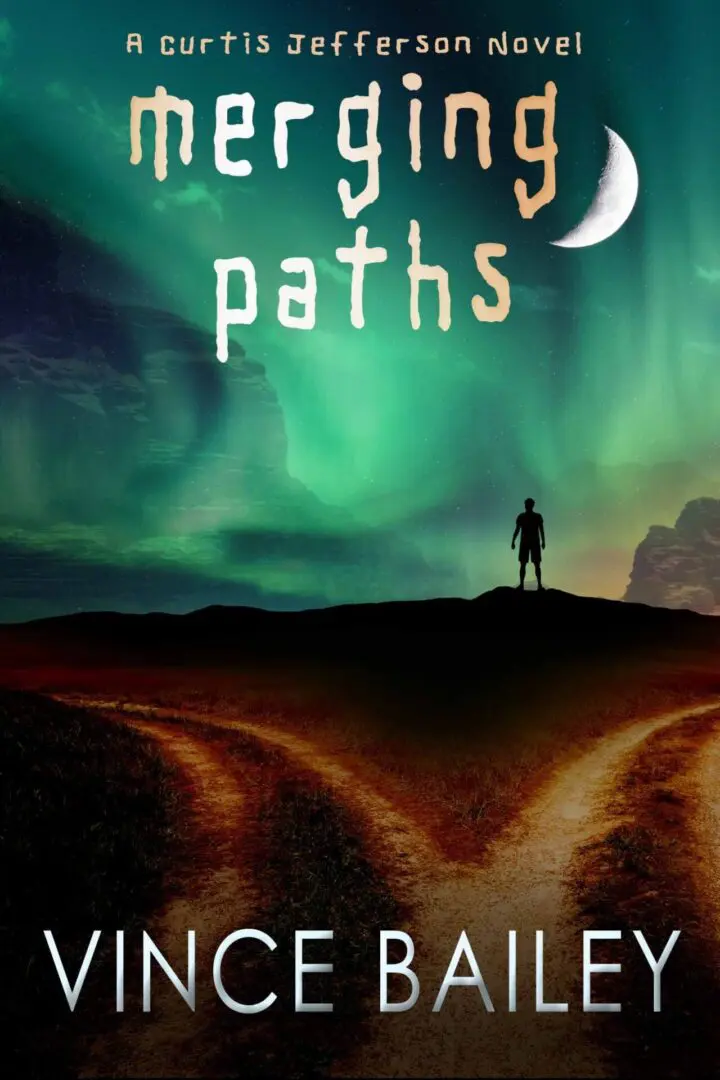 Title: Merging Paths
Author(s): Vince Bailey
Genre(s): Historical Fantasy, Paranormal & Urban, Supernatural, Thriller/Suspense
Publisher: IngramElliott (2022)
Curtis Jefferson's epic tale of the century-old curse of Fort Grant edges toward a rousing conclusion—the promise of relief from the suspense built through its predecessor novels Path of the Half Moon, and Courses of the Cursed. Chapter one of Merging Paths makes it abundantly clear that this historical hex and its attendant hunger for revenge have not been satisfied by the slaughter of Harvey Huish, as was anticipated. This concluding episode of Curtis's supernatural trilogy follows our hero in his flight from that enchanted reform school, his struggle to survive a death-defying desert crossing, and his attempts to elude a racist deputy whose mission is to end our young fugitive's bolt for freedom with a bullet.
Meanwhile, Isabel and Ray Cienfuegos continue to be threatened by their would-be assailant, the vicious demon-spirit Ezra, former chief of the Aravaipa Apache and self-appointed avenger of the historically factual mass murder of his people. However, the old shaman's tireless pursuit of his quarry provokes a defensive instinct in Isabel, who refuses to be cornered.
Ezra persists in his role as the embodiment of the curse as he continues to hound Kenny Armenta, the asylum-confined lapidary who stands falsely accused of murdering his wife.
As the title suggests, Merging Paths presents a bonding of characters who wrestle with the shared forces of evil in its various forms and culminates in a riotous climax that is certain to excite readers who have sought for fulfillment of unresolved issues of good versus evil, as presented in each of the trilogy's two forerunner tomes.
Reviews
Coming soon!
Read More Reviews on Amazon
Read More Reviews on Good Reads